Best Times To Visit: Dec - May
Yes
Spanish (Get to Practicing)
Overview
THINGS TO DO
Adventure-Seeker? Check out activities with a flame  (  ) for some extra thrills!!
Old Havana – Take a walk through the original parts of Havana with over a thousand buildings of historical importance.  Havana was developed on four main squares:  Plaza de Armas, Cathedral Square, Piaza Vieja, and Plaza de San Francisco de Assisi.  Take a stroll through these colorful areas connected by narrow streets.
Featured Photo: @amyanizphoto | Tag #WWTTHavana to be featured in our Havana City Guide
Ride in a Classic Car – Now we go into more detail about transportation options in Cuba in a different section but riding in one of these 1950 relics is an experience that is a must. Most of these "Grancars" are around the expensive hotels (i.e. Hotel Nacional) and cost around 5-10 CUCs.
Featured Photo: @osamoje | Tag #WWTTHavana to be featured in our Havana City Guide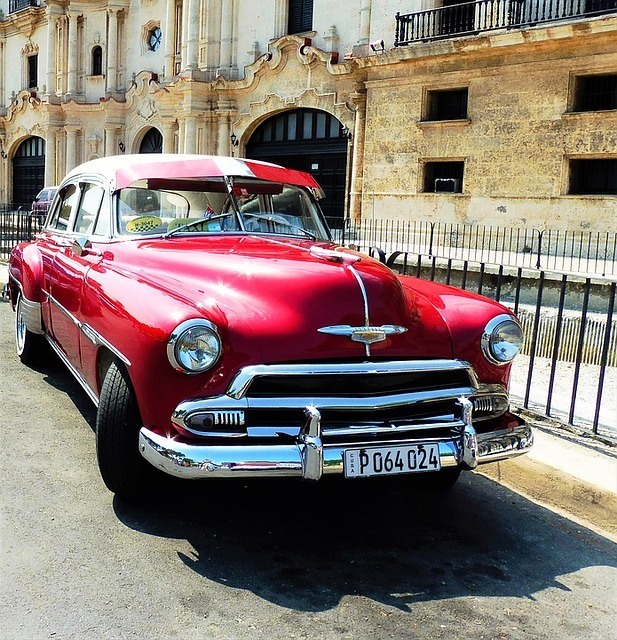 Calle Obispo  – The main street of Old Havana that is vibrant and filled with tourists and locals alike walking over its cobblestone streets.  Tall buildings block out most of the sweltering sun, so you can wander through the art galleries, shops, and bars in relative comfort.  Enjoy a mojito, listen to some authentic Cuban music, and even get a chance to practice your salsa.  www.lahabana.com/guide/calle-obispo/
Parque Historico Militar – This is the home of El Morro and Faro del Morro fortresses, originally constructed to help protect the island from attack by sea.  Every night, at 9 pm sharp witness el canonazo de las nueve, where costumed soldiers shoot the canon indicating it's time to close the city gates. www.visitarcuba.org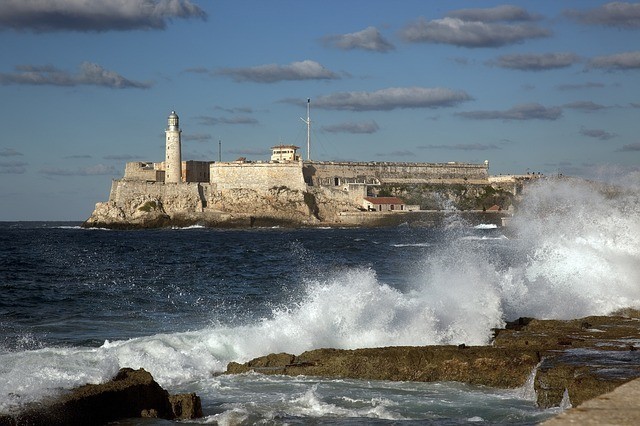 Plaza de la Revolucion (Picture Time) – Havana's largest plaza and serves as the administrative hub of Cuba.   Be sure to see the memorials to Che Guevara and Camila Cienfuegos (Not Castro), two of the most important heroes of the Cuban Revolution.  Seriously, do not miss these!!
Featured Photo: @guelmita | Tag #WWTTHavana to be featured in our Havana City Guide
Fabrica El Laguito (Cigar Factory) – Whether you're going to smoke a Cuban cigar or not, you have to visit a factory to see how they're made.  This factory is given the first choice of tobacco from the harvest, primarily because they roll the Trinidad, a cigar that was made exclusively for Castro and high level diplomats until the late 1990's.  Tours are reserved for dignitaries so can you request permission at Tabacuba, a cigar warehouse. (Virtudes #609, e/ Escobar y Gervasio, Centro Habana)
Featured Photo: @chaemichael_ | Tag #WWTTHavana to be featured in our Havana City Guide
La Corona (Cigar Factory) –  For 10 CUCs,  you will have a knowledgeable tour guide walk you through the steps of cigar creation and actually see over 200+ men and women hand-rolling the cigars while on the tour.   Factory workers are given a selection of cigars each week so don't be surprised if they try to sell you some on the low since they make no more than 20 CUC a month.  The factory offers a variety of Cigars such as the famed Montecristo and Cohiba.  It is as quick tour, about 20-30 minutes, but well worth it even if you are not a smoker.  www.cigaraficionado.com
Pico Turquino ( Mountain Trek – Bayamo) – This is the highest peak in Cuba at an elevation of 6500 feet and house's Castro's old hideout that was used to avoid  Baptista's troops during the Revolution.  Located on the southeast part of the island in the Sierra Maestra Mountains, take a flight to Santiago de Cuba (2.5 hours) and then drive 2 hours to Bayamo. Alternatively, you can also take a bus to Bayamo (10-15 hours).  The hikes are 2-3 days and can be a bit challenging but  you will  have some of the best views in Cuba.  www.ecoturcuba.tur.cu 
HISTORY
Modern History (Christopher Columbus) – If you look back on the history of Cuba you can begin with the landing of Christopher Columbus at Guantanamo Province in 1492. Spain colonized the island and for three centuries served as a stopping point for ships crossing the ocean to the New World. During the 19th century, with the loss of Haiti's dominance in the sugar cane industry, Cuba came into its own as a major sugar producer.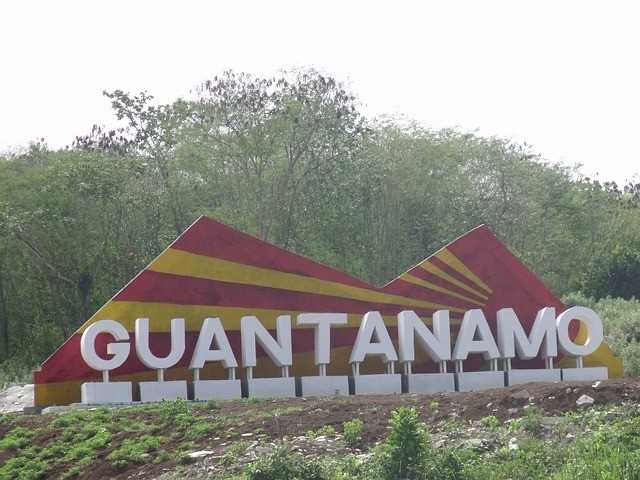 [Don't forget Guatanamo Bay, the U.S. military prison  is in Cuba]
Modern History (Cuba's Path to Independence) – Cuba struggled to gain its independence over the years, and finally gained its independence in 1902 after five years of occupation by the U.S. Military.  Cuba was a country wracked with corruption and violence as well as political irresponsibility. In the 1930s, a group of students aided by Fulgencio Batista were able to overthrow the government, thereby allowing Batista to become the self-appointed chief when he forced the resignation of then president Ramon Grau San Martin. Batista was president from 1940-1944 and came into rule again from 1952 to 1959. He was also heavily supported by the US government (aka the US's puppet). During this time Che Guevara worked closely with Fidel Castro to wrest control of Cuba from Fulgencio Batista and in 1959 helped Castro become the prime minister and eventually the president through what is known as the Revolution.
Modern History (Che) –  Just so you know, Che is a guy to be remembered (aka a "boss") and is the face you see on all of these T-shirts and in the Plaza de Revolucion.  Che Guevara served as head of La Cabana prison, acted as ambassador for Cuba, director of Cuban's armed forces, was appointed president of the national bank, and ultimately did as much as he could to aid the country's transition to communism.
Modern History (Bay of Pigs) – During the late 1950's, the relationship with the United States continued to rapidly deteriorate, and the U.S. imposed an embargo on Cuba that broke relations. In early April of 1961, the CIA attempted to seize control from Castro, but the never forgotten Bay of Pigs invasion was a miserable failure. How, you ask? Well, Castro's Cuban Revolutionary Armed forces defeated the CIA sponsored group of 1400 Cuban exiles in just 3 days.  Not only did the CIA's 13 million dollars that was invested in these troops, also known as the Brigade 2506, prove to be useless, but this secret invasion was also a direct violation of the United Nations.  After this major US embarrassment, Castro happily claimed Cuba as a communist system on April 16, 1961.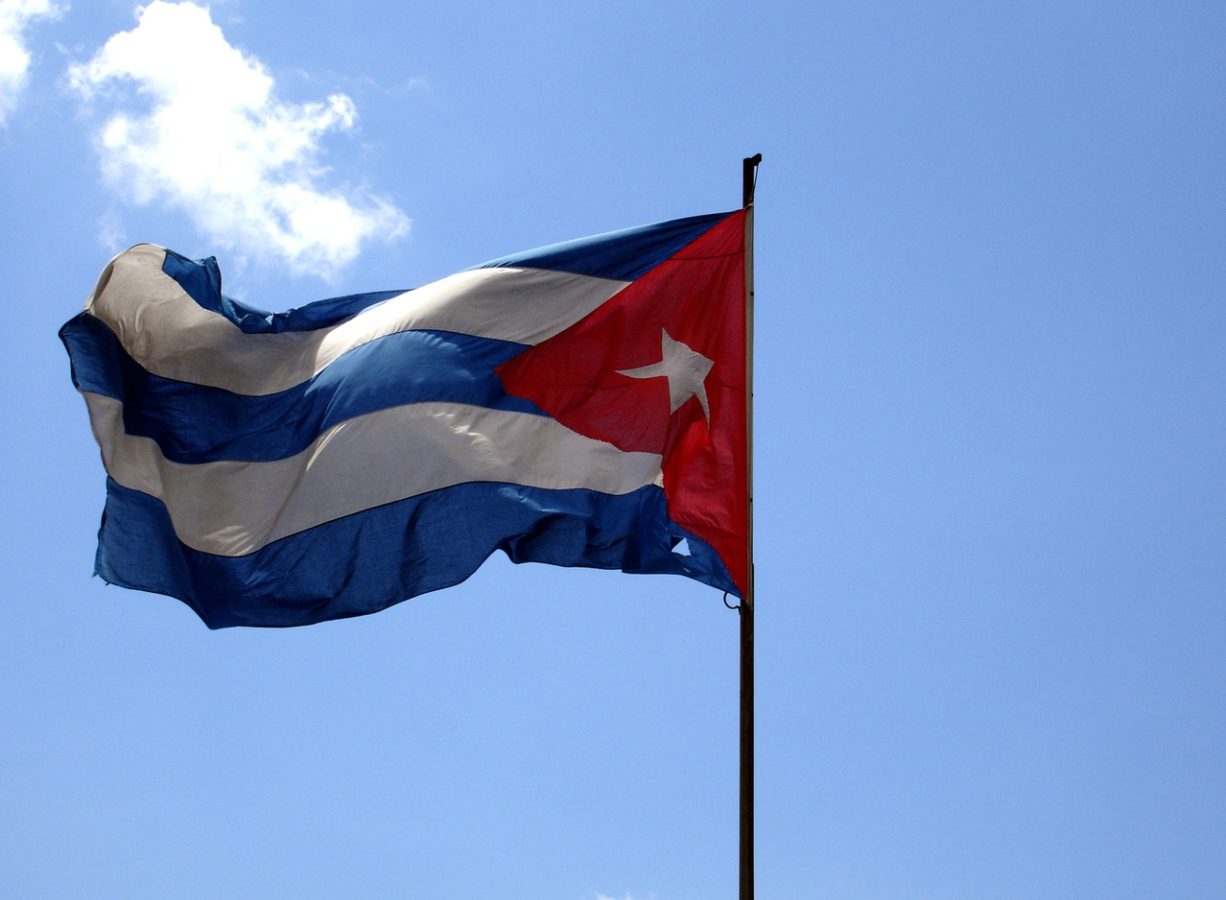 Modern History (Cuban Missile Crisis) – After the Bay of Pigs, Cuba wanted to deter any future US attacks and requested that their new allies, the Soviet Union, place nuclear ballistic missiles in Cuba.  They agreed and some missiles made it to Cuba, but once the US's spy planes identified the threat, they created a military blockade to prevent any future missiles from entering Cuba and required that the existing ones be removed (i.e. Cuban Missile Crisis).  Although there was intense standoff, Kennedy and Khrushchev came to an agreement and the missiles were removed from Cuba.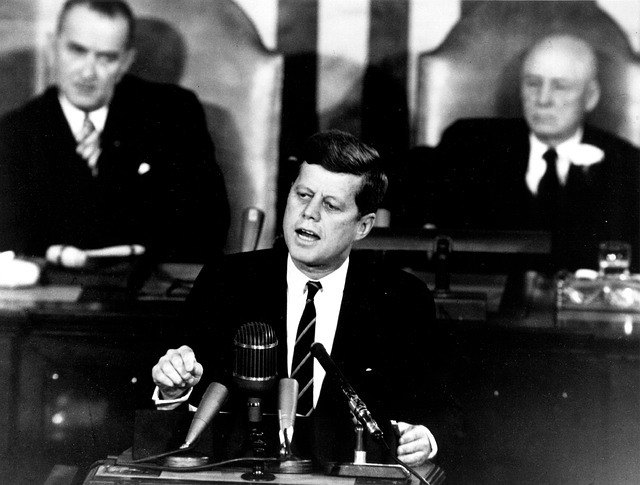 In order to reach this agreement, the US had to promise to never invade Cuba without provocation and also had to dismantle nuclear ballistic missiles bases in Italy and Turkey.  However, with the fall of the Soviet Union in 1991, Cuba could no longer avail themselves of the economic subsidies that were being provided by the Soviet Union. Cuban exports began to drop drastically, by as much at 79%, which threw the country into economic turmoil.
Cuba in 2017 – Today's Cuba shows a generation influenced by hip hop and rap which slowly trickled in through the radio waves of Florida (just 90 miles away). You won't find a lot of salsa in clubs (at least for the young people)  but instead reggaetone, a mix of reggae, rap, and Spanish hip hop.  It is one of the most popular musical styles in Cuba. It has energy, a beat that makes those hips move and is loved by young people in Cuba.   Now, with the arrival of Barack Obama in Cuba, as the first president to visit in nearly a century, a new era has been ushered in.   Although embargoes have not yet been lifted, change is coming as you have likely already seen as Cuba is the new spot.  You better get there before what used to be Cuba is gone though or before Trump brings us back and you have sneak over there even more so than you would now!!
AFFORDABILITY
Cuba is cheap!! – Cuba is a very affordable city but their currency situation is unique in that they actively use two different currencies! First we have the CUC, the Cuban convertible peso, which is artificially inflated to be 1:1 with the American dollar. This is what most tourist will use and many of the larger purchases are required to be paid in CUC (i.e. taxis, hotels etc). Then we have the CUP, the regular Cuban Peso, and this has a conversion rate approximately 26 times less than the CUC.
Currency 1:
Cost of Big Mac (or Similar) in Cuba: 1.89 CUC or $1.89 USD [2015]
Big Mac (USA): $4.79 [2015]
Exchange Rate: $1 to 1 CUC (Note Exchange rates are constantly changing. Please use following link for must up to date  rates. www.xe.com/currencyconverter/
Currency 2:
Cost of Big Mac (or Similar) in Cuba: 50 CUP or $1.89 USD [2015]
Big Mac (USA): $4.79 [2015]
Exchange Rate: $1 to 26.5 CUP (Note Exchange rates are constantly changing. Please use following link for must up to date chance rates. www.xe.com/currencyconverter/
Featured: @f_mylife_brenda [CUC Left / CUP Right] | Tag #WWTTHavana to be featured in our Havana City Guide
Two Currencies Hurt Local Cubans – Just so you know, this puts Cubans at a severe disadvantage as many make their money in CUPs but have to buy various things in CUCs.   This also encourages prostitution because these ladies will make money in CUCs, which is highly more desirable.  From a tourist stand point, you can use this CUP to buy local food (i.e. a $2 sandwich) and goods at a discounted price.
"Homeland or Death" [Picture of Che] – Castro's motto used during the Revolution and against US forces.  See more in History Section.
CUPs were illegal for tourist – When I was in Cuba in 2012, tourists having CUP were illegal (I still got them though), but now you can evidently go to local bank and get either currency.  Be prepared to pay a hefty 10% penalty just for using American currency.  I know it sucks but it's not always great to be American..seeeeee!
Cuban Scammers – Please be wary of scammers since they love to be paid in CUC and give change in CUP.  Make sure you are either really good at math or have a calculator out.
From the USA? –  If you are from the USA be prepared, because your  American ATM cards and credit cards will be useless.   Check with your bank to be sure because things are becoming more allowable there but I still doubt it.  What this means is that you have budget correctly and ensure you have more than enough money that will last you your entire stay in Cuba (no pressure).  Also, don't forget about that 10% penalty for using American money.
Not from the USA? – If you are not from the US you have a higher chance of being able to withdraw money and use your credit cards. You also do not have to deal with that 10% penalty.
Before you Leave Cuba  – Lastly, convert all the Cuban pesos back to your local currency, because unless you want to keep them as a souvenir, they are worthless outside of Cuba!!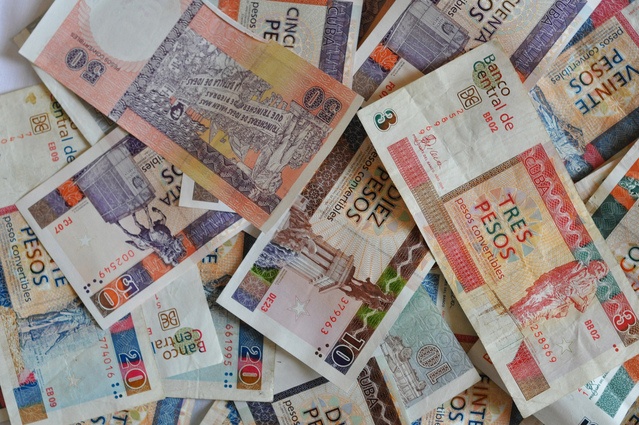 General Costs – A beer or wine will cost $1-$2 USD and you can easily get away with a dinner for two being around $20-25 USD in tourist locations. If you go to casas or smaller local restaurants dinner for two would be closer to $10-15 USD.  No Big Macs in Cuba so the is a guesstimate but this should still help give you an idea.  To sum it up it is just saying Cuba is cheap!!!
RELAXATION
Take a Cruise To or From Havana – Cruises have been leaving Havana for years but just not for Americans so if you aren't American you are in luck!!! They leave from Montego Bay and from Havana and have a variety of excursions available to you. For us back in the U.S. we will have to wait until the embargo is lifted for similar access but we can take expeditionary cruises offered by companies like Fathom National Geographics. They have a focus on "social impact" but do your research and be prepared for the paperwork!! www.fathom.org/travel-to-cuba/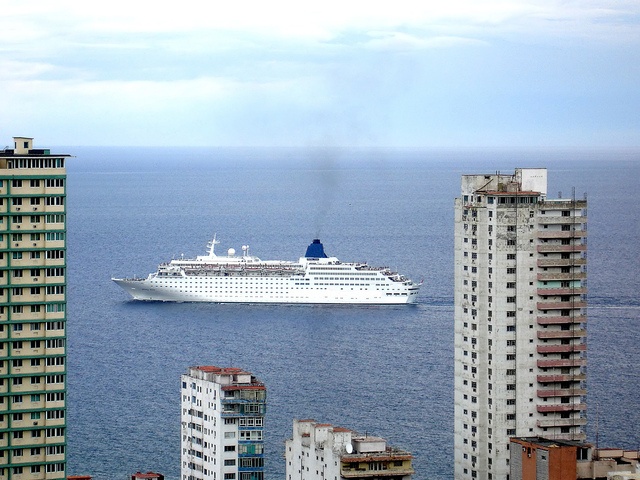 Santa Maria Beach (Relax or Party) – A local favorite that is only about 20 minutes from Havana and accessible by local bus ($3-5 CUCs) or taxi ($15-25 CUCs), this is your beach destination if you are looking for a quick dip in the beautiful blue water of Cuba or a weekend of relaxation.  This 12 km white sand beach is alive with tourists and locals and offer a variety of rum/snack bars with live musicians playing music ranging from Cuban drum sets to maracas. There are even so clothing optional areas!!  However, be prepared, once people start to get off work, get ready for turn up, especially on Fridays. www.cayosantamaria.info/beaches
Featured Photo: @lafontaine | Tag #WWTTHavana to be featured in our Havana City Guide
Museo del Chocolate – Opened in 2003, this museum which is really just a small store, has some interesting artifacts relating to the history of chocolate. Sip some decadent hot chocolate and sample some of the artisanal candies while watching the chocolate being made. I love chocolate so I spent half my day here indulging myself! www.lahabana.com
Plaza de Armas (Casual Shopping) – This plaza was first known public square of Havana, and was originally used for government ceremonies and military events. Today the streets of the square are filled with booksellers and stamp collectors displaying their wares. There's no pressure to buy – they're just happy to be there. www.oldhavanaweb.com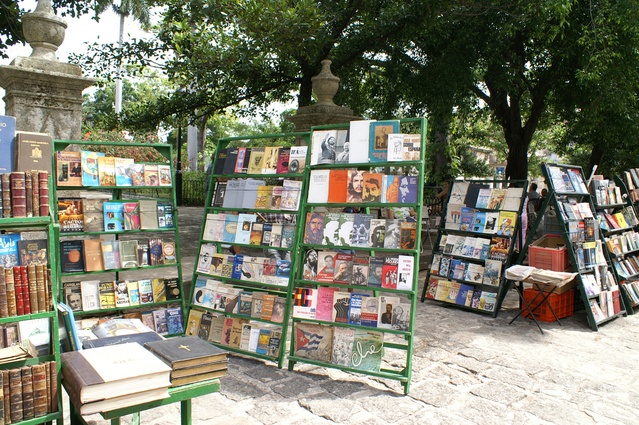 Havana Club Museum of Rum (Rum Tasting) – It's time to drink! The 7 CUC rum tour is cool and gives you a comprehensive run through of how rum is made but the true highlight is tasting at the end. This is a good way to spend an hour while you are walking through the city. www.havana-club.com/
Museo de la Revolucion – The best museum in Havana for you controversial history buffs out there! While in the museum, be sure to check out the Corner of Cretins where Presidents Regan, Bush Sr. and Jr., are portrayed in caricature. You can also read about the "so called Cuban Missile Crisis" (as the museum puts it) and walk to the outdoor pavilion where you can see vehicles such as tanks and jeeps used int he Revolution.
Featured Photo: @exxeo | Tag #WWTTHavana to be featured in our Havana City Guide
Featured Photo: @moshstagram | Tag #WWTTHavana to be featured in our Havana City Guide
Maqueta Museum of Old Havana – This is just one of the spectacular museums to visit for information about Old Havana. Also be sure to visit the Palace of the Counts of Casa Boyana, in the Cathedral Square, and the Church and Convent of St. Francis of Assisi in the Plaza de San Francisco de Assisi.
Guantanamo Province (Historical) – This is where history was made long before the U.S. had the controversial navy base of Guantanamo Bay there. This mountainous province is where Christopher Columbus first set foot in Cuba and left a wooden cross, which is now displayed in the town's cathedral. This is the easternmost province from Cuba and you will have to take a flight to get here. Not necessarily worth it and extremely far from Havana but the historical significance is pretty cool.
ROMANCE
The Malecon (Must do) – Devised as a barrier to protect the city from attack by water, it has turned into the place to be at sunset.   It reaches 5 miles along the Havana coast from Havana Harbor to Vedado, and you can hear the heartbeat of the city's history as you pass along the way.  Perfect opportunity for a midnight stroll with bae. www.cuba-junky.com/havana/malecon.htm
Featured Photo: @jepgil | Tag #WWTTHavana to be featured in our Havana City Guide
La Casa del Son (Cuban Salsa Lessons) –  If you want to learn how to salsa, Cuban style, then this is the school for you.  Get your groove on as you enjoy classes with professional instructors that teach you a salsa style rooted in Afro-Caribbean roots.   You can even have a "Dance Chaperone"  take you out for a night on the town so you can put that practice into action.  Private classes are 15 CUCs per hour, group glasses are 10 CUCs for 2 hours, and your chaperone is 25 CUCs which includes drinks and club entry. www.bailarencuba.com/lacasadelson
Varadero (Beach) – Located about 2 hours from Havana, once you arrive, you will never want to leave. Pure white sand and crystal clear blue water that stays perfectly warm all year long and stretches for miles. Rain or shine, this beach is beautiful and you will love it! Go as a day trip or spend a couple of days there. www.seatemperature.org
Featured Photo: @fatal_ice | Tag #WWTTHavana to be featured in our Havana City Guide
Vinales (Quaint Town) – A very  romantic place on the island where you are taken a back into time with landscapes full of lush green forest and valleys. In Vinales, you can explore caves that were inhabited by Amerindians, go horseback riding, and explore the colorful, quaint street of this small town.  This again is not quite in Havana but a 2.5 hour  ride away.  You can get a  Viazul bus in town to take you there for about 15 CUCs. www.viazul.com/
Featured Photo: @iamtravelco | Tag #WWTTHavana to be featured in our Havana City Guide
Trinidad (Colonial Charm) – This charming town was founded in the 1500s and contains over 1000 colonial buildings that showcase's some of Cuba's oldest architecture. As you walk through the cobblestone streets of Plaza Mayor, this historic town center, you will get a sense of how time stood still in this little colonial gem. Located 4 hours away from Havana, there are only a few hotels to stay in but lots of "casas" where you can stay for almost nothing. www.cubaccommodation.com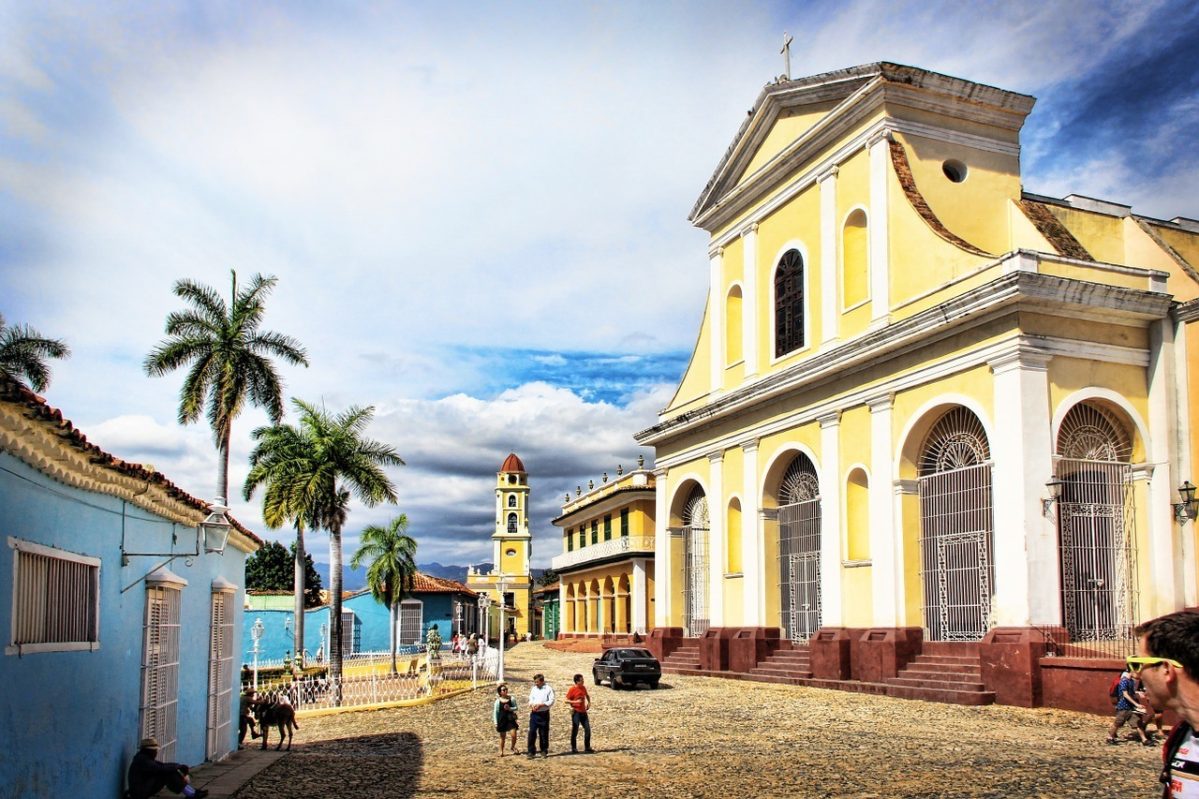 Northern Cays (White Sand Beaches) – Located in central Cuba and consist of over 100 small islets with stunning white sand beaches that contain some of Cuba's newest resorts and beauty that can quite possibly top Varadero.  The drive up to this beachy paradise is part of magic as you drive on the causeways that connect these tiny islands and see fuana, mangroves, and beautiful variations of blue in the water.  Unfortunately this destination is almost 5 hours by bus.   Just for your reference he main islands  are Cayo Las Brujas , Cayo Ensenachos, and Cayo Santa Marí but you can get more information with this link. www.cuban-beaches.com/villa_clara
LOCAL FOOD
As explained in the Affordability section, it doesn't really matter what currency you use, you are going to be able to eat like a King and Queen in Cuba if you are coming from American currency.  Before we jump into some of the restaurants let's give you some context on Paladares since you will be eating at many of them.
$$$ – Expensive
$$ – Moderate
$ – Cheap
Paladares (Historical Context) – These establishments were legalized and came into vogue in the 1990s in Cuba to allow local residents to employ some of their entrepreneurial and culinary skills. These are small restaurants, generally operated out of someone's home, and have rules attached to their operation (not sure how much they are enforced though). For instance, you must employ at least two family members to help prepare and serve the meal or all ingredients must be purchased at state stores. These local joints now number more than the state-run restaurants and are much more popular. Because each of these establishments is run out of someone's home you can expect a very comfortable atmosphere with lots of eclectic décor although the outside may be a bit unassuming.
Featured Photo: @simplyshannah | Tag #WWTTHavana to be featured in our Havana City Guide
LaGuarida (Central Havana) – Opened in 1996, this paladar boasts that they are the "most elegant Paladar in Havana" and hosted film stars such as Natalie Portman and Helen Hunt and now more recently, Jay Z and Beyonce. It is located on the third floor of a colonial mansion with a lot of character and history. They serve great drinks and even better food. Thus will likely be your favorite dining experience while in Havana so be sure to make a reservation. [ $$ ] www.laguarida.com/en
Featured Photo: @simplyshannah | Tag #WWTTHavana to be featured in our Havana City Guide
Atelier (Vedado) – Located on the second floor of a contemporary home in Vedado, Atelier offers a twist of French and Cuban cuisine with a focus on the latter. Ingenious decoration like old fashioned typewriters and lamps create a décor that matches perfectly with its divine cuisine. The menu is constantly changing but if you are lucky, try the ropa vieja, with lamb or the lobster and steak. Dishes can range between 2-15 CUCs [ $$ ] www.saveur.com/best-paladares-havana-cuba
LeChansonnier – Another gastronomic delight carved into a townhouse run by Hector Higueras (brother to Hiuris Higueras who runs Atelier) where you'll find incredible Italian inspired Cuban cuisine. Start your meal with terrine of rabbit, followed by a main course of Duck with Olives, and finish up your meal with brandy chocolate truffles or peach carlota. [ $$ ] www.lechansonnierhabana.com
Street Food Lessons 101:
Street Vendors in Havana offer up some of the best, most authentic food and drink in the area, for mere pennies on the dollar. Here you'll find people hawking their wares from their windowsills, baskets laid over their arms, or push carts attached to bicycles. Look for the longest lines because that's where you'll find the best food.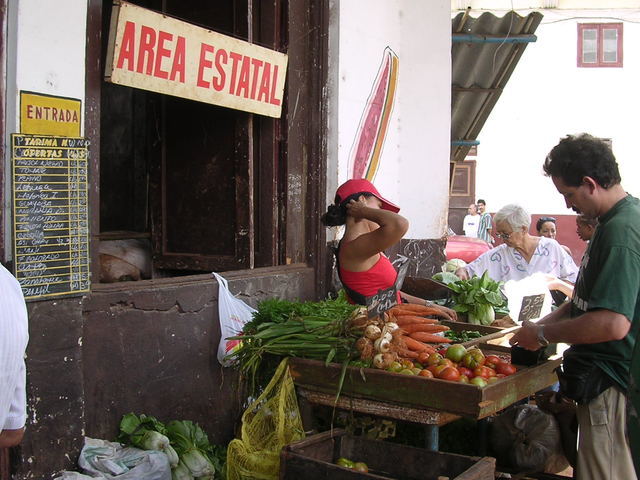 In the mornings, look for those selling fried egg sandwiches, or the pan con tortilla, the local version of an omelet served on bread. Also look for pan con chorizo, pork sausage that's highly seasoned and served on bread. Wash it all down with authentic Cuban coffee and you've got breakfast for about one dollar.
Cubans are fond of fried foods, so try the churros, chicharitas (paper thin slices of fried plantains), or grated taro, deep fried with egg and crushed garlic. To quench your thirst try the fruit shakes, made using fresh mango, papaya, and guava Batidos de Guayaba. Or sip on the sweet nectar of cane sugar (guarapo), pressed right on the spot. Prices vary by vendor, but you can absolutely get lunch for two for under five bucks.
Pork is widely used in Cuba whether it's in a stew, a thick pork steak, or a fried chop served with rice and beans. Try the pork burgers (hamburguesa de cerdo) or the goat platter (fricasse de carnero).
NIGHTLIFE
Club 1830 (Ave. Malecón y 22, Vedado ) – Set in a gorgeous mansion with an outdoor garden facing the sea. The dance floor is under the stars and the locals are usually kind enough to show you a dance move or two. Get ready to Salsa or Timba until 2 a.m. www.insidecuba.havana-club.com
Featured Photo: @simplyshannah | Tag #WWTTHavana to be featured in our Havana City Guide
La Cecilia – If you want reaggaeton, you got it! Le Cecilla features some of the best reggaeton around and is a frequented venue for live music and concerts. Expect a lively crowd in this open air club and enjoy the music in to the early morning (4 a.m.) There is $15 CUC cover depending on the act. www.lahabana.com/guide/la-cecilia/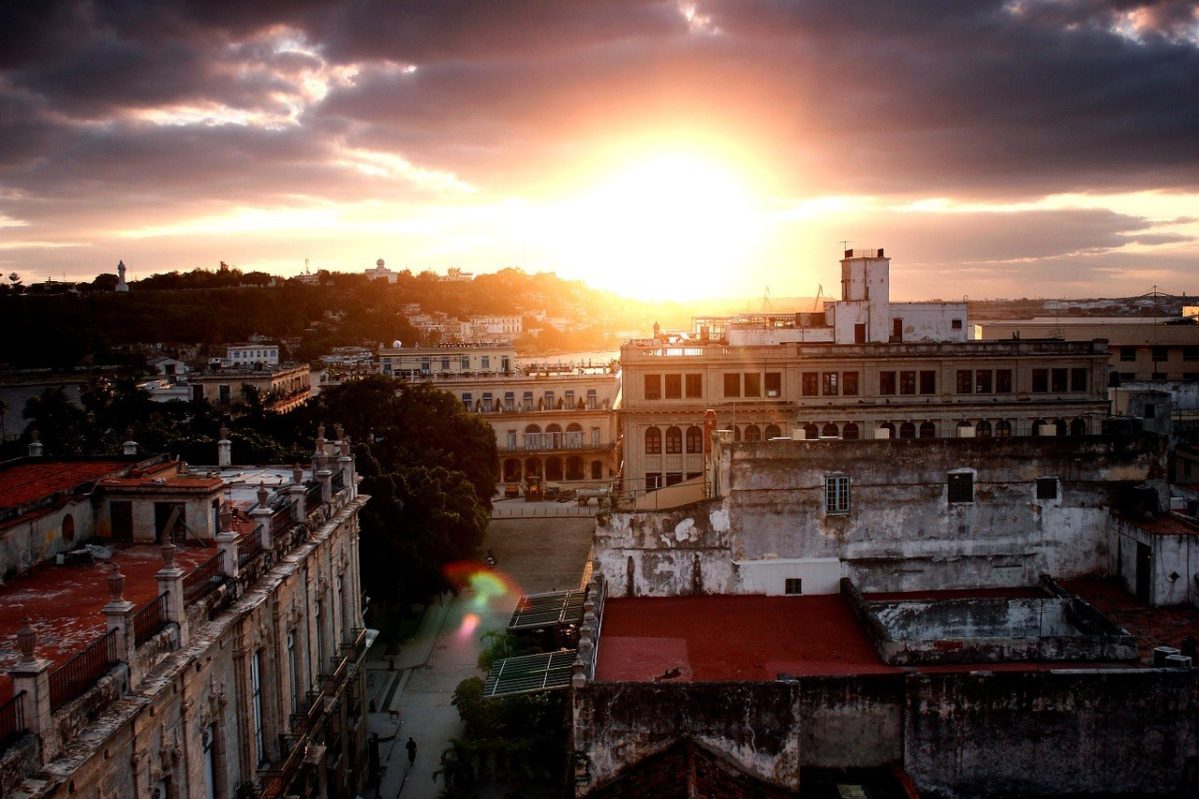 Buena Vista Social Club – A rag tag group of musicians who accidentally became one of the biggest hits in Havana. Their initial album has sold more than 8 million copies and they have performed at Carnegie Hall as well as won a Grammy for their music. Check out the documentary The Buena Vista Social Club which was nominated for an Academy Award for Best Documentary Feature in 2000. www.buenavistasocialclub.com
Havana Club Bar – After you've finished the tour of the distillery and the tasting room (look at the Relaxation section), check out the bar which is adjoined to the museum. You can enjoy rum mixed in more ways than you can imagine. A local musician, Solista Antia Marquetti along with her band regularly entertain here on the weekends with a repertoire of traditional Cuban music. www.havana-club.com/
WHERE TO STAY
You can find a variety of hotels or Air BNB's (300+) in Cuba that range in price but an alternative to those are "Casas Particulares" or just "casas". They are similar to Bed and Breakfasts or private homestays and will give you an awesome opportunity to interact with a local family www.havanacasaparticular.com
Old Havana (Havana Vieja) – Old Havana is the historic part of the city that is overflowing with museums, boutiques, restaurants, salsa clubs, and many of the key tourist sites. This is the perfect place if you want to explore the city by foot and be in the heart of everything. However, most places will be closed by midnight for you late night-goers.
Featured Photo: @camillawanderlust | Tag #WWTTHavana to be featured in our Havana City Guide
Featured Photo: @bubbsy55 | Tag #WWTTHavana to be featured in our Havana City Guide
Central Havana (Havana centro) – Only a few blocks from Old Havana but quite the distinction. This neighbored is more impoverished with collapsed buildings and is not at all touristy. See locals playing dominoes, the stray dogs, pickup games of soccer or baseball, and watch how the neighborhood comes alive as people return home after 5 p.m. A very safe area, come here if you want to experience the real Havana.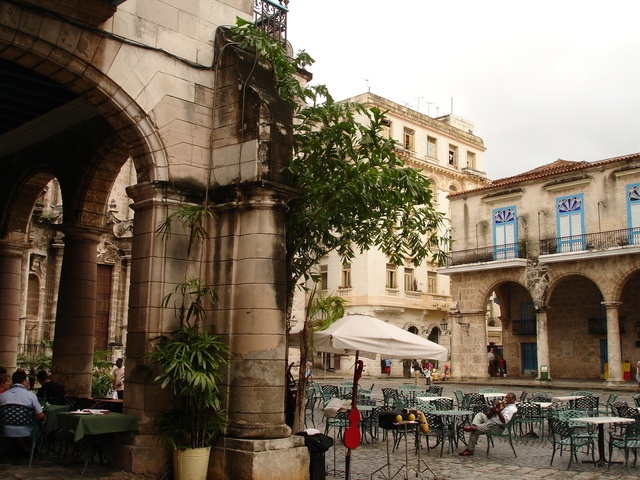 Miramar (Luxury) – A fabulous neo-classical neighborhoods which house diplomats and embassies, along with resident foreigners. Loaded with restaurants, mansions (Cuban style), and high end night clubs, this modern suburb is where Havana's elite used to reside. Many luxurious business class hotels and private accommodations are located here. Many locals still live and party here but it is relatively quiet and taxi ride away from most sites.
Vedado (Everything) – This is the most modern part of the city and has great nightlife. Many of Cuba's best hotels are located in this busy neighborhood and there also some great restaurant options like Atelier (described in Local Food). The Malecon is located on the outskirts of this district so you will still be close to all the action if you stay here but it will be a bit quieter than Old Havana.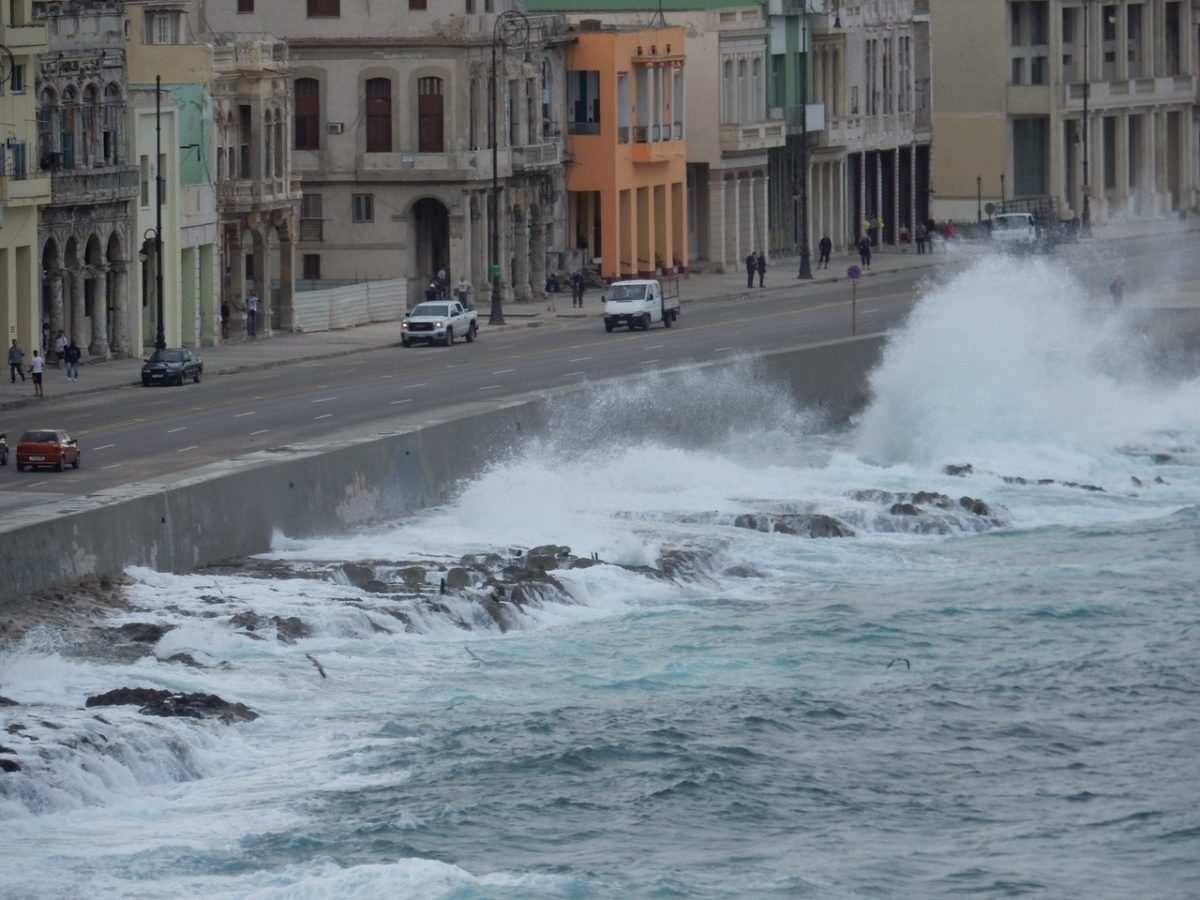 Habana del Este / Playas del Este (Beaches) – A semi-popular tourist destination in Havana known for its serenity and beautiful beaches. This is a great substitute if you cannot make it to beaches of Vardero but do not except as many options for accommodations as this area is normally enjoyed by the locals, particularly in July and August.
Varadero (Beaches) – This beach city is 2.5 hours east of Havana and was founded in the late 1800s, mostly for wealthy Cuban families. Today there are more than 50 hotels and resorts to choose from and almost all transactions are handled in U.S. Dollars. Fabulous white sand beaches and crystal clear blue waters await you in Varadero. www.mycubavisit.com/cities/varadero.html
Featured Photo: @thegabriella | Tag #WWTTHavana to be featured in our Havana City Guide
Trinidad (Colonial Charm) – This charming town was founded in the 1500s and contains over 1000 colonial buildings that showcase's some of Cuba's oldest architecture. As you walk through the cobblestone streets of Plaza Mayor, this historic town center, you will get a sense of how time stood still in this little colonial gem. Located 4 hours away from Havana, there are only a few hotels to stay in but lots of "casas" where you can stay for almost nothing. www.cubaccommodation.com
Featured Photo: @_soyamerica | Tag #WWTTHavana to be featured in our Havana City Guide
Suggest Duration – 4-6 days (in particular if you add another city)
Visa – Yes, it is required. It cost about $30 USD and you can get at one at the airport in Canada or Mexico (or whatever your gateway city into Cuba will be). However, I just let my travel agent do it for me so I could have a peace of mind. If you do a licensed trip they will take care of it for you too. Also, be sure you have at least 4-6 blank pages in passport just in case.
Disclosure – Cuba is a bit different when talking about experience as it is illegal for American to travel there unless under specific guidelines. So to be clear, I am not offering advice of how to get to Cuba I am simply informing you of my past experiences. You cannot hold me accountable for any potential legal issues that may arise from reading the below information, as it not meant to be used as advice but as an opportunity to share my Cuban experience.
Legal Options – So after reading that, here are some legal options just in case you can't bring your heart rate back to normal levels:
Explorica – An official educational tour that includes airfare from Miami, lodging, most meals, and transport around the city. You are definitely paying an extreme premium as these trips will run you around $4000. explorica.com/educational-tours/cuba-educational-exchange.aspx
Group Travel – Licensed with OFAC (Office of Foreign Asset Control). I discuss traveling with Fathom in the Relaxation section:
How I got to Cuba – I personally just used Cuba Travel USA when I went in 2012 (it was much more illegal back then) and had them book my flight through Cancun. You can NOW book flights to Cuba from the U.S. so you will not need a third party like I did in the past.  But back to my experience. I was a bit nervous when I picked up the tickets in Cancun and even more nervous when I was coming back to the U.S. but everything worked out just fine. My entire trip couldn't have been more than $1500 (including flight). You can repeat after me if you like, but this is what I said as I was going through U.S. customs: "I went to Cancun for vacation and I had a great time!!" www.cubatravelusa.com
General Transportation – You will likely take a normal yellow taxi to your accommodation when leaving the airport, so make sure to negotiate. However, what you really came to Cuba for are the classical 1950's cars and the like.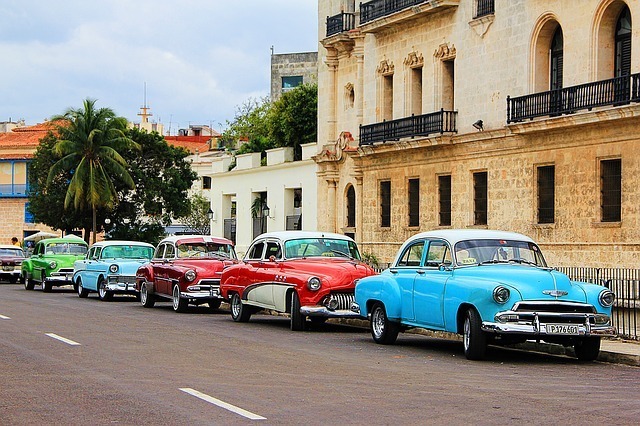 You will be taking a step back into time as you take these old American classics. Negotiate a fare again (start at 5 CUC) and expect to share the ride with locals. Your primary mode of transportation will be walking or taking taxis in Havana but you can use buses to travel to destinations that are farther away like Trinidad or Varadero. There are also these adorable little yellow motorized taxis that are perfect for a quick trip called Coco Taxis. Although they look like toy cars on steroids, they can actually get up to a pretty good speed.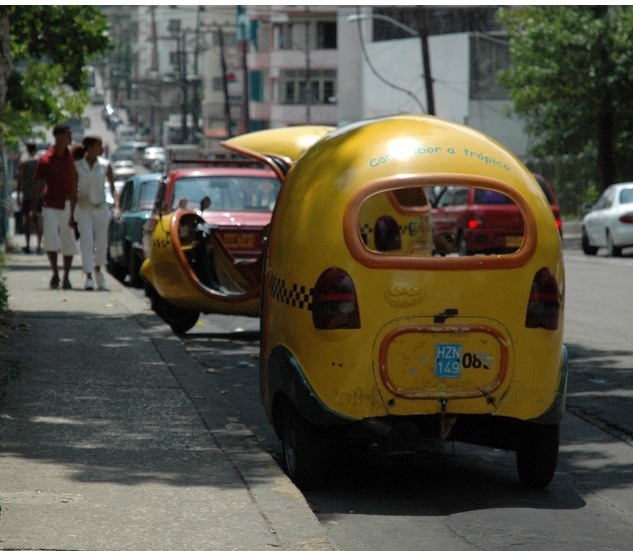 Airport Transportation – Currently, Cuba is not open to U.S. residents for tourism. "Purposeful" travel such as official government business, journalism, educational and religious activities, and humanitarian visits are allowed. So another words I went to Cuba for educational reasons (wink..wink). Many Americans have already gone to Cuba and many will be going in the future so don't overthink this. Just relax…wooh sah. Just make sure they do not stamp your passport which they will more than likely not attempt to do anyway. If you get caught through it's not my fault. I am just telling you what i have done I am not advising you to do the same (another disclouse just in case). Here is the fine print: https://www.treasury.gov/cuba_faqs_new.pdf
MY EXPERIENCE
Pros – Everything! The culture, the history, the people, the food, this place is absolutely amazing!! Cuba is very safe and the people are very friendly. There really is no other place like this on Earth. Where else can you can take a step back into time and drive in a car from the 1950's.
Cons – Cuba will soon be Americanized so there is an urgency that you have to hurry up and get over there before the original Cuba is gone. Internet is a difficult commodity to come by so don't expect to be posting to Instagram and googling things with ease. In addition, the fact that it is not "legal" to go there to be a tourist is annoying. Many people people will not speak English so practice your Spanish. Lastly, the inability to use your American credit card, withdraw money if you are using an American bank, and that 10 percent penalty for using American currency is also irritating.
My Experience – I used cubatravelusa.com to book my flights via Cancun in order travel to Cuba in 2012. I was more than a bit nervous I must admit. All I could think about was how illegal this trip was lol. I remember sitting in the Cancun airport and kind of just freaking out. What if I get caught? Would I lose my job? Would I get fined? I also thought that I may get robbed immediately upon coming off the plane. In hindsight, I was definitely overreacting, but as a precautionary method back then, I stashed some money in my socks just in case.
So I landed in Havana and next step was going through border control. That went pretty smoothly, surprisingly. They saw my passport and didn't really pay much mind. It was kind of anticlimactic. They didn't even attempt to stamp it and just hurried along. Success!! So after my buddy and I grabbed our luggage we hailed a taxi and then boom, we are on the road in Communist/Socialist Cuba!!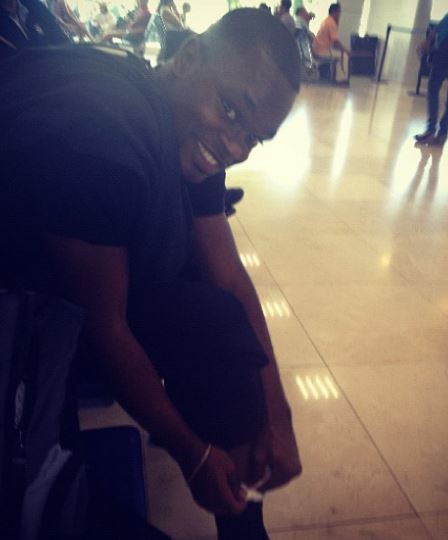 I stayed in a casa with a family. The accommodations of course were of course not your Ritz Carlton but it wasn't that bad at all. It felt very hostel-ish. The host was an older guy who spoke little to no English but he ended becoming like our Cuban dad despite the language barrier. He also had a son in his early 20's who would constantly walk around the house with just his underwear on (I mean it is his house).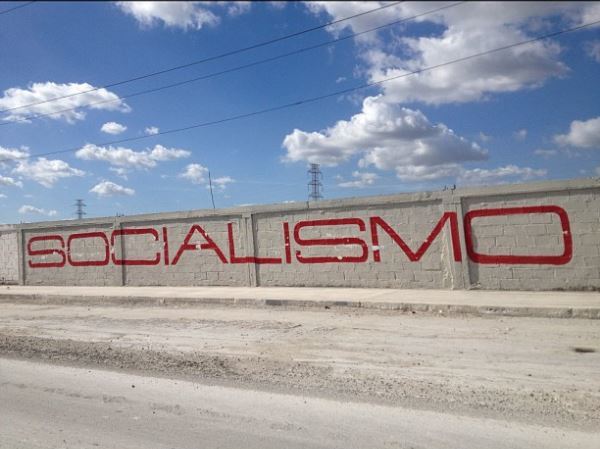 While in Cuba, I of course did the taxi rides in those classics. I probably rode in those 1950 cars a couple of times a day just for the experience lol. These guys would have these taxis fresh to death. The one below is about the only picture I could find with a picture with me and a car from 2012 but this picture also illustrates how incredibly friendly Cubans are. I don't know why I was afraid at all in Cancun. These guys are so nice!!!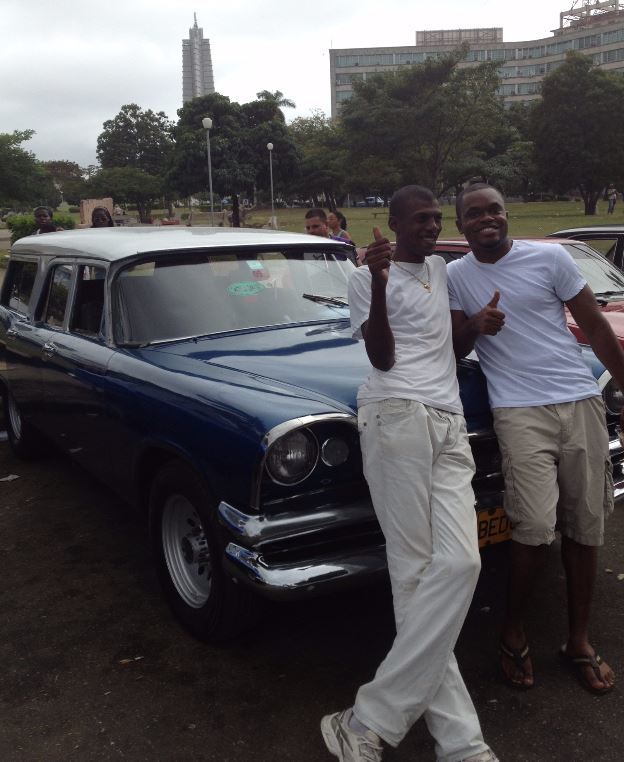 Another major highlight of Cuba for me was the Chocolate Museum. I love chocolate!!! I So once I figured out there was a store it was game over! Now this place, is really more of a chocolate store. However, it didn't matter because I literally spent hours there just indulging. I think I tried just about everything on the menu. I was on such a chocolate high but it was worth it. The bill wasn't terrible either as each piece was about $.40 CUC. Now compared to other chocolates that I have had since then, Cuba's would not be the best but still pretty good. For this case, in particular, it was quantity over quality.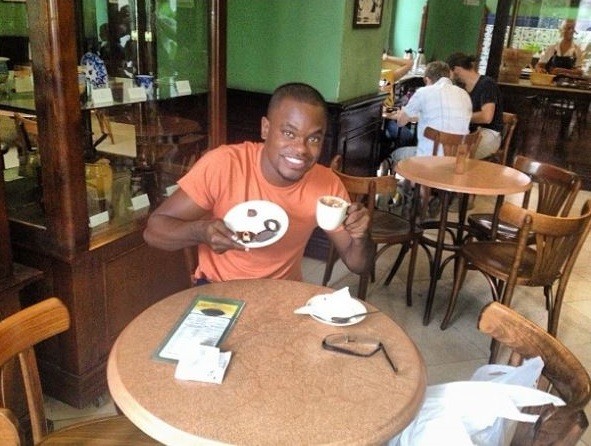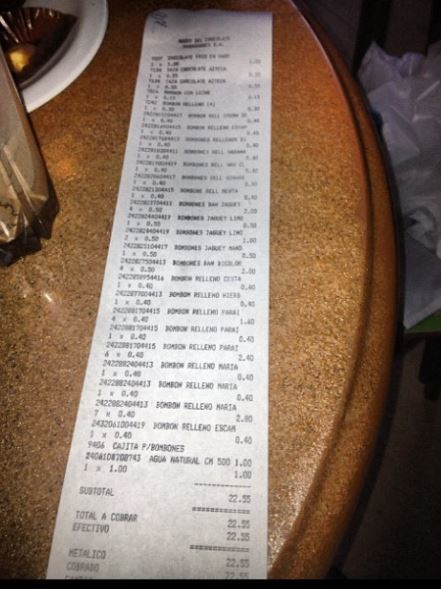 I also got to see the world-renowned Buena Vista preform. I had no idea who these old guys were (I know..I know.. shame on me) but met some people that gave us the rundown of their importance so we definitely felt lucky to enjoy the show. These old guys still had some serious swag as they were performing. They had the crowd pumping as they were still trying to holla at young women. I am pretty sure one of them tried to get a woman's number at our table so he could take her out.
There are a ton of stories I could tell you about Cuba but one of the funnier ones was when I was actually leaving Havana. Along the way we met various Americans that also traveled "illegally" to this beautiful country.
While we were all having a great time we were all bit nervous about coming back to the state as well. Some of us ended up being at the airport at the same time and I just remember all of us huddling together, trying to get our stories straight in case we were asked questions by border control.
"Well, what are you going to say if they ask you where have you been? If we get our passports stamped in Cancun twice that could raise suspicion and we could get the $10,000 fine." We were all calmly freaking out lol. It was beautiful.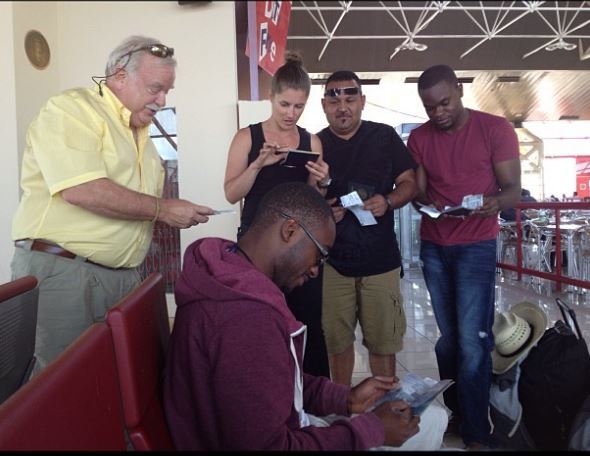 What made this moment so special was that it was quite a mixed group. It was two black guys (my buddy and I), a Mexican American, a white girl, and an older white guy. Now, where else would you see a group like that, one that barely knows each other, but yet still leaning towards each other for camaraderie.
We of course did make it back OK but it was just a funny memory of how race, socioeconomic status, and looks didn't matter. It was simple. We were just Americans that wanted to make it back home. Got to love traveling!!!